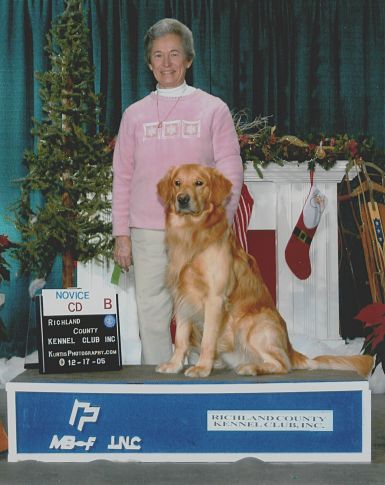 I've always been an animal lover. I've had horse fever ever since I can remember.
My mother and I saved Green Stamps to help purchase a horse in the mid 50"s. Does that date me or what? I was active training, showing, supporting the local horse club and eventually breeding several horses of my own. When marriage and family entered the picture, penny pinching helped me find a hobby that better fit our circumstances at that time. The love of "training" lead me to dogs. The way I had it figured, if I can train a 1000 pound horse, it surely must be easy to train a 70 pound dog! The gift of a Siberian Husky from a friend and friendly advice from Husky owners (won't listen or come when called) and I immediately searched for an obedience school and enrolled. In 1981, after about a year of classes, I was invited by the instructor to help teach obedience classes. While teaching, I met lots of great friends and a group formed that eventually got interested in obedience competition.
During this time I met a class-mate, Kip Pedersen, who became a life-long friend and was my consummate mentor over the years. She decided that in order to excel at the sport, she needed to have her own training facility. After getting established, she invited me to help teach classes – together for 17 years, we gained a wealth of knowledge about all aspects of dog breeds, training techniques by attending seminars and eventually obedience competition. In l998, several years after her retirement, I decided to start my own business – Ann's Canine Classes.
I am an accredited evaluator for the Canine Good Citizen/Trick Dog program. I also was active in the Dogs and Babies program for expectant mothers sponsored by Hamot Hospital (now UPMC Hamot). Through the years I, personally, have been involved and highly successful in many different dog activity created venues, including competition obedience and Rally, tracking, agility, and field hunt testing for retrievers and have dabbled in show conformation. And there are many other dog sports or activities out there for you and your best dog friend to explore: trick training (this can be challenging and fun), dock diving, barn hunt, lure coursing, earth dog, therapy dog, search and rescue, disaster rescue, and more – some newer ones that I don't even know the name! Find them a job and keep them busy. That way they'll have less time to get into trouble!
And so, 40 years later, I find my greatest joy in life is sharing with my students (and anyone else who is willing to listen to me ramble on at length) the knowledge I have gained about dogs, how dogs think and dog training. I'm hoping I can help you have a dog that is a joy to live with and is a valued member of your family and the community.